Are you looking for the spelling games for kids? To teach spelling to your child  and improve their overall skills and confidence, it's important to remember that the learning process should be made interesting, motivating, and fun. 
Spelling Games for Kids- 3 Letter Words
Find out how to teach your child to spell words correctly is rarely a thought that crosses the minds of parents. While most preschools might start coaching the children with simple words, real learning happens when your kid comes back home and makes an attempt to recall what was taught to her earlier. Helping your kid revise his lessons with the help of some spelling games for kids is  becomes quite necessary.
Create a game where your child begins with one word, and the next has to start with the last letter of the previous one. Each new word has to be spelled out properly, before moving ahead. Make use of paper pieces to write those words down and make the activity tangible
Give your child a number of scrambled words. You can use spilling puzzle games, alphabet blocks or fridge magnets, or even make your own by writing letters on pieces of paper.
3 Letter Word Games for Kids - Spelling Games for Kids
Some of the Spelling games for kids of 3 and up that will improve your child spelling skills are shown below:-
Creative Educational Aids P. Ltd. Fun With Words Puzzle (Multi-Color, 90 Pieces)
This Spelling Games for kids I Personally used for my 3-year-old Daughter. Using this she learned spelling at a very early age.
So I personally feel that Spelling games really helps kids to learn Spelling.
Here I am Showing unboxing this spelling teaching games .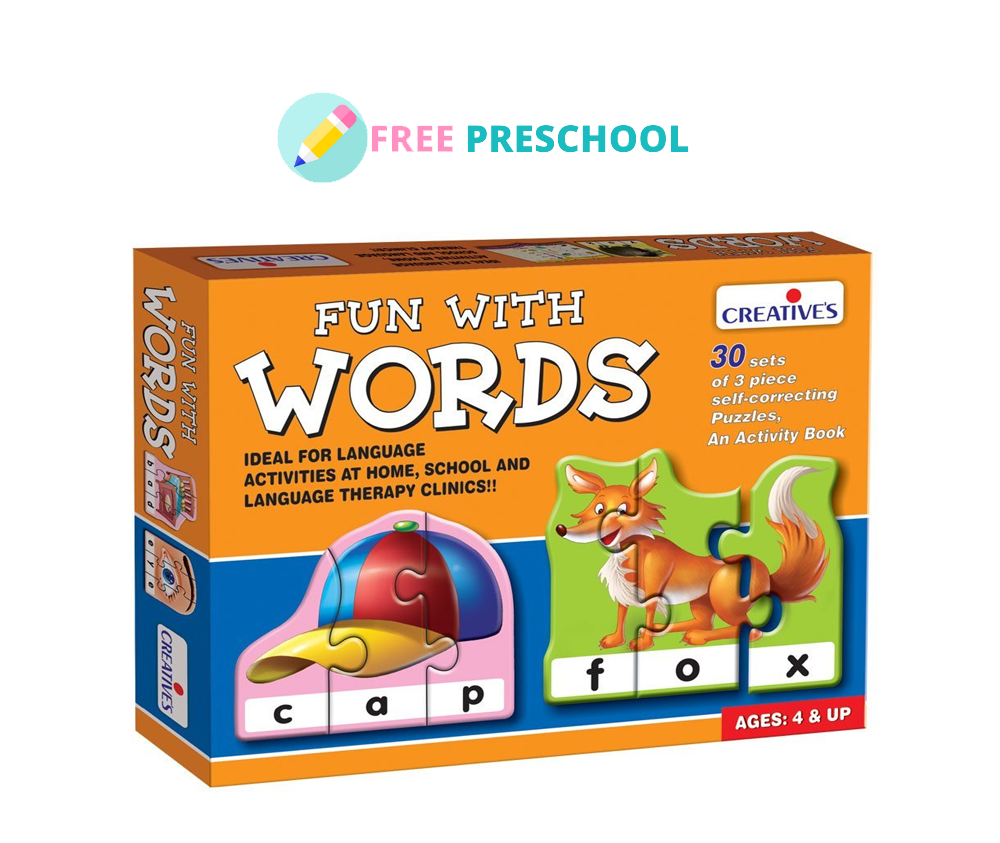 This Spelling Game I Personally used for my 3-year-old Daughter. Using this she learned spelling at a very early age.
So I personally feel that Spelling games really helps kids to learn Spelling.
Fun with words is a set of 30 simple three-letter words puzzle games for your kid by which he/she can play with and learn the spelling of these 30 words,.
Learning Objective :
Develop observation skill
Improve eye-hand coordination ga,e
Develop basic vocabulary
Recognize letter of the alphabet
Built-up 3 letter words
Ages:– 3 and Up
Contents:
30 multi color word building Puzzles with their names writing below in bold letters. Each picture card is cut into three parts- 90 pieces in all
An activity book
How to play:
Picture puzzle cards
a. Give the child any one picture of your or his her choice
b. Let the child recognize the object and speak its name.
c. Now break it up into parts and ask the child to reassemble it Repeat with other pictures.
d. Help the child associate the object with its name written below. Do it by moving your finger across the name. Speak the full name. Spelling would come later, much later, when the child has had a lot of practice with full names for quite a long time, spread over many days.
e. Mix parts of 2 pictures and ask the child to build the puzzle one by one.
f. gradually increase the number of pictures to be mixed up. Speak the name of an object and ask the child to pick out the part of that object and built it as and so on.
Group Game:
Players mix and divide the cards equally and spread them face up, in front of themselves. They look at the cards and decide which word they can make.
The youngest player starts. He/she picks up a card from his/her share and places it in the middle other players take their turn clockwise
Each player on his/her turn looks at the card in the middle, keeps it if needed to build his/her word puzzles, otherwise puts one of his/her cards in the middle.
Players go on taking turns till they build up their picture words. The players have the added choice of taking cards already discarded by others.
The player with the highlighted number of pictures built up wins.
2. Activity book
For additional learning and picture practice, the child will complete the simple and branded activity of the included booklet.
Some More- Spelling Games for Kids
2. Webby Learn Words with Vowels Jigsaw Puzzle with Activity Book, 90 Pcs
By using this spelling game for kids you kids will Learn words with help of Vowels by matching the words or pictures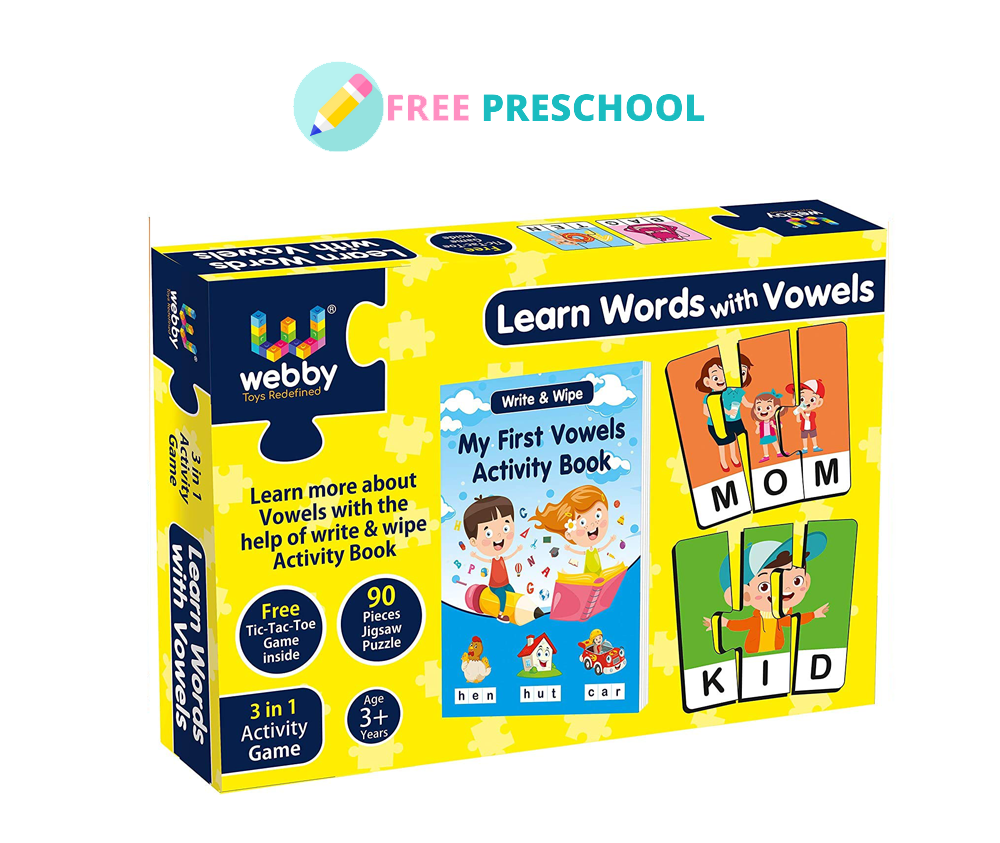 8 Pages Write & Wipe activity book comprises of ( find missing word, complete the sentence, re-write the same word, re- arrange the word sequence, fill in the blanks, trace the letters

Improve Letter Recognition, Letter Sounds, Spelling, Reading & Writing Skills

Free Tic-Tac-Toe game makes it more interesting, Ideal early education game for pre-school kids

Note – Ideal for Pre-School kids, Contents – 90 Pcs Jigsaw puzzle,1 Write & wipe activity Book,1 Temporary marker, 1 Tic-tac-toe game board with 10 coins.
3. Speller Junior-Spelling games for kids
This Junior Spelling games for kids is a fun way to learn spelling. The child learn the spelling of 560 carefully selected words which make up two third of the vocabulary of everyday use
4.Play Panda Magnetic Learn to Spell : Animals with 32 Picture Magnets- Spelling games for kids
Magnetic Learn to Spell is a perfect introduction to simple words. The colorful pictures help your child associate words with objects. This spelling games for kids  helps to develop early reading skills including letter recognition, word formation and spelling.
Working towards creating each word helps your child develop their concentration skills. The magnetic pictures and the magnetic letters are thick and made of durable materials. This enables the kids to easily pick up, pinch and grasp pieces and move them around. This leads to fine motor skills development and hand-eye coordination.

How to play? Pick up the beautifully illustrated picture magnets and place them on the magnetic board. Identify the object in the picture. Use the letter magnets to spell the word in the picture. A spelling guide is included in each set to help get the kids started. This product is suitable for both boys and girls. Children can play in groups as well.

Many ways to play this spelling games – 1. Identify objects in the pictures. 2. Match the object with its starting letter. 3. Match a letter with an object that starts with that letter (Eg: A for apple). 4. Spell the words beforehand and ask the kids to match the correct picture. 5. Spell the word in the picture.

Each set includes 32 picture magnets, 72 letter magnets, 1 magnetic board, spelling guide and 2 magic seal pouches to store the magnets.