Are you looking for the Number Counting and Color  Matching Games for Preschoolers ? So here is the Unboxing, and Description of some best games available online. 
Number Counting- Number Matching Game
Creative's PRE-School Learning Shapes and alphabet
This Preschool learning kit provides activities like  Number Matching, and Number Counting with cards and board books also Color Matching  Games for Preschoolers. I am Personally using this preschool learning kit 1 for my little boy who is 3 years old.
Here is the  unboxing of Preschool Learning Pack 1   
This  Color Matching Games for Preschoolers is a 4 in 1 Learning kit that I am using for my Little boy. He is  3 years old and by using this Number Counting and Color Matching Games for Kids he learned Color Matching, Color Recognize, and Number Counting, and Number Matching very quickly.
So I personally feel that Matching games with colorful picture flashcards really helps kids to learn Color and Numbers very easily.
Preschool learning pack from creative's is a combination of four board books and four sets of activity card of the early learners. There are several ways to use play with the card and the books. Some of the topic-wise activities/suggestions are detailed below. These are our suggestions of course not the only way to use this set. It is the creativity of parent/teacher that will motivate children towards greater achievements in life.
Learning Objective :
Enhance Visual Discrimination
Increase in Concentration
Problem Solving Skills
Learn Colors and Color Matching with pictures matching
Learn Number Counting and Number Matching with pictures.
Matching Skills
Contents:
4 colorful and attractive  board book.
4 Sets of Activity/ Flash cards .
Activity Guide
BENEFITS OF BOARD BOOK:
 Board books greatly help in developing the children reading comprehension, understanding, and awareness. They also had to gain new knowledge and understanding about different topics and areas of learning such as shapes, colors, numbers, and ABCs.
The included Board books are very sturdy, durable, colorful, attractive, and education. The child will really enjoy using them and learn the concept easily.
1. Number Counting And Number Matching
CONTENT: 20 object and numeral cards- 10 each
ACTIVITY:
1. First spread object cards on some flat surface face up. call a number at random and ask the child to find the card of that number by counting the objects.
2. Similarly, spread numeral cards face up. call a number at random and ask the child to find the card of that number.
3. Once, the child is able to count 1 to 10 easily, spread both the sets face up and ask him/her to match the object with their corresponding numerals.
4. Jumble all the cards together, call some number, and ask the child to find out that particular numeral and its corresponding object card.
5. Once, the child has mastered counting, he/she may be given the greater picture by making him/her place the number cards: a. in a sequence of 1 to 10 b. in decreasing order ( from 10 to 1) C. odd and even numbers, etc.
2. Color Matching Games For Prechoolers
CONTENT: 22 color and object cards- 11 each
ACTIVITIES:
1.  Identification:- with 11 single color cards
a. show the child these color matching games cards, one-at-a-time. Ask, what color each represent. name the color if he/she doesn't know it.
b. Spread all the color matching games cards on the table face up. call names of the colors at random. ask the child to point out the named color card.
2. Recognition of different colors: with 11 object of color matching  cards
a. show object cards one by one and ask, which color they can see in each picture? for example in the object card of tomato, we see red.
b. spread all of the cards on the table face up. call names of the colors at random. ask the child to point out the named color object card.
3. Number Matching: with both sets of card
spread all color matching games cards of both the set on the table face up ask the child/children to match each color cards with the corresponding object of the same color.
Some More- Number Counting Games
Wooden Learning Box with Digital Counting, Clock, Number Counting sticks and Arithmetic Symbols 
Package: The toy set including: Wooden board, Storage box, Wooden Teaching Clock, Chalks, Math puzzles, Wooden numbers Counting sticks, Blackboard, Eraser, Manual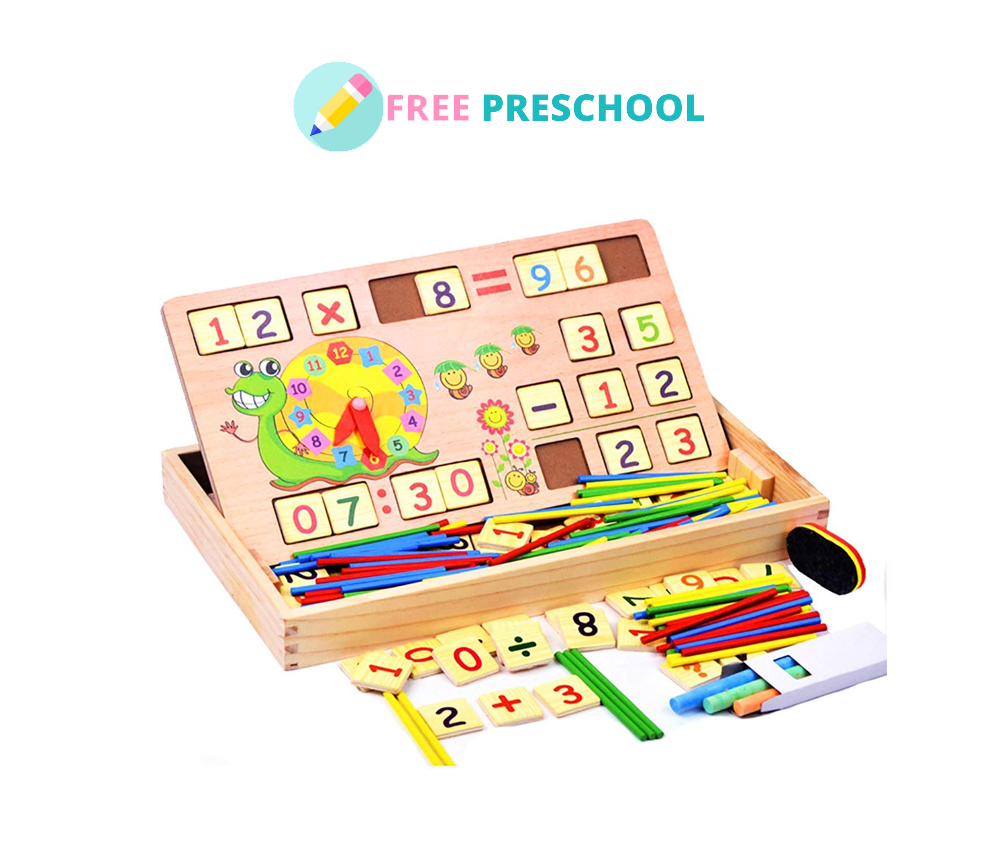 Multi-Functional Number Counting Toy:- This is a multi functional Color Matching Games for Preschoolers children; pretty color patterns can improve their interesting. Teaching clock can let them more understanding time, wooden numbers and counting sticks can let them learning Number Counting  mathematics, and blackboard can drawing with chalks many pattern that they like.

High Quality: Top quality wooden material, polished elaborately without burrs, environmental, non-toxic and absolutely safe toy for your kids. Wooden storage container more convenient collect all parts together and carrying.

Intellectual development: Mathematical operations, intellectual development, hands-on brains, interest development, parent-child interaction, interactive toys, grasping, hand-eye coordination, visual training, brain training

It develops Thinking skills, Imagination and stimulates senses of a baby it has various colors of wooden sticks and pieces of Numbers that kids can learn Mathematics easily a clock which children can understand about time. A black board with eraser and 3 chalks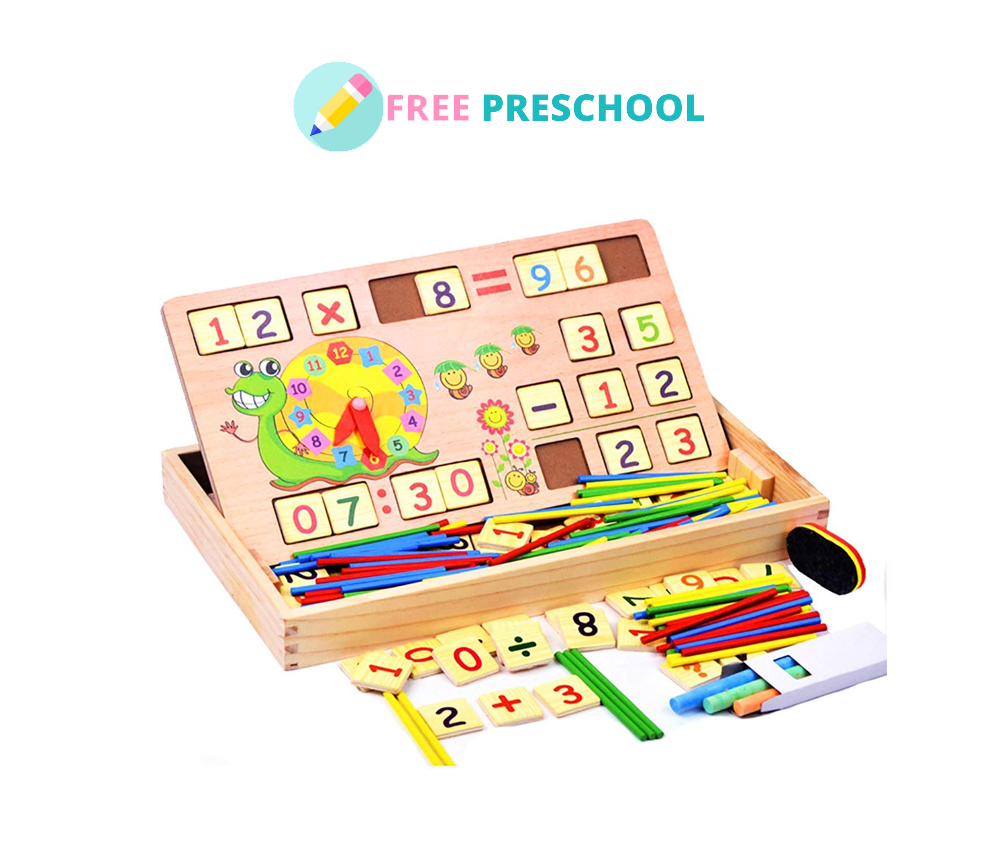 NUMBER COUNTING WORKSHEETS